Thriller Awards Banquet
---
2023 ITW Thriller Awards Winners
We're thrilled to announce the winners of the
2023 ITW Thriller Awards!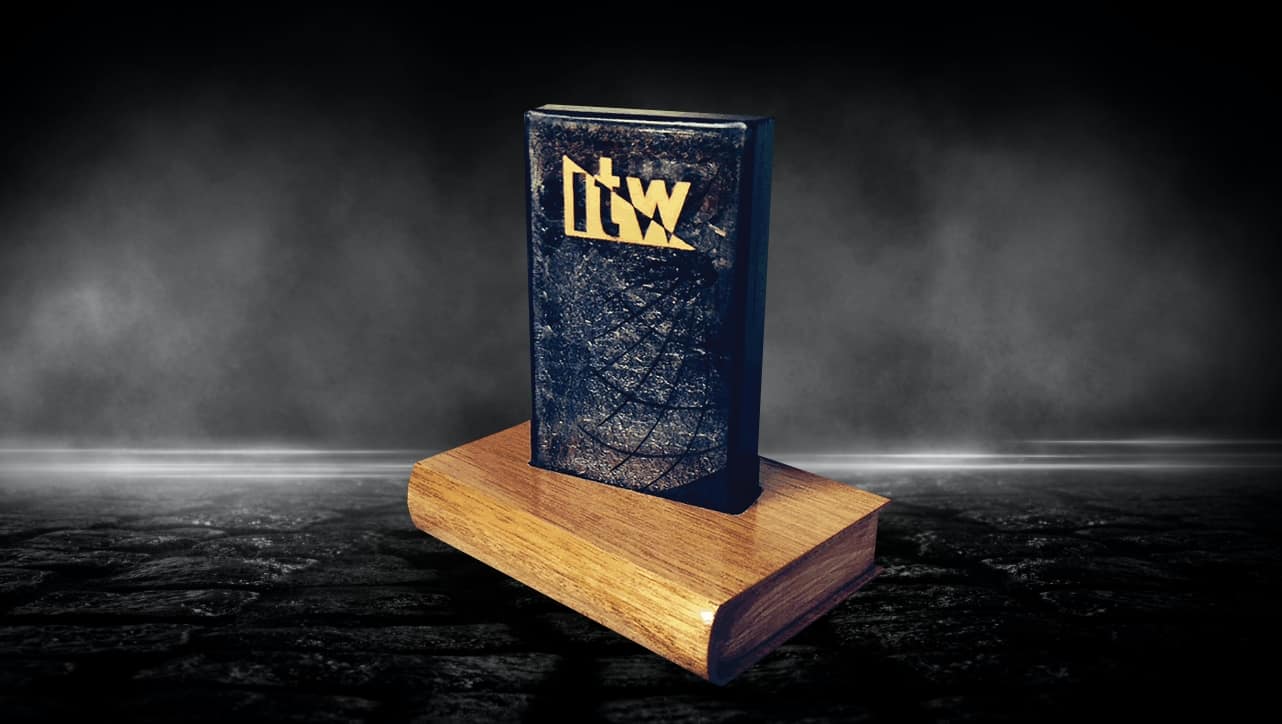 On Saturday, June 3, 2023, we welcomed everyone to the 18th annual banquet where we honored 2023 ThrillerMasters Charlaine Harris and Walter Mosley, presented the Thriller Awards, and offered other entertainment. We also hosted a cocktail party before the dinner and an after-party following the dinner. During the banquet, the key individuals who make this organization work were introduced. Highlights included hearing from our ThrillerMasters and finding out who won the coveted Thriller Awards, which are given every year for the best thriller books in hardcover, paperback original, debut, e-book original, and other categories.
A special thanks to Tosca Lee, the VP of Awards and all the volunteers who read, judged, and chose the winners.
The nominees and winners for the 2023 Thriller Awards are listed below.
---
BEST HARDCOVER NOVEL
THE VIOLENCE

Del Rey

THINGS WE DO IN THE DARK

Minotaur

THE FERVOR

Penguin/Putnam

THE CHILDREN ON THE HILL

Simon & Schuster
TWO NIGHTS IN LISBON

MCD

SUNDIAL

Macmillan

THE FIELDS

Flatiron Books
Best Audiobook
YOUNG RICH WIDOWS

Audible
Narrated by Dina Pearlman, Karissa Vacker, Helen Laser, Ariel Blake

THE LIES I TELL

Audible
Narrated by Anna Caputo, Amanda Dolan

THE PHOTO THIEF

CamCat Publishing
Narrated by Rachel L. Jacobs, Jeffrey Kafer

THINGS WE DO IN THE DARK

Macmillan Audio
Narrated by Carla Vega

THE SILENT WOMAN

Blackstone Publishing
Narrated by Christine Lakin, Kate Rudd
BEST FIRST NOVEL
THE RESEMBLANCE

Flatiron Books

BLOOD SUGAR

Penguin/Putnam

DIRT TOWN

Pan Macmillan

A FLICKER IN THE DARK

Minotaur
BEST PAPERBACK ORIGINAL NOVEL
THE LIES I TOLD

Montlake Romance

NO PLACE TO RUN

Thomas & Mercer

UNMISSING

Thomas & Mercer

THE HOUSEMAID

Grand Central Publishing
ANYWHERE YOU RUN

William Morrow

THE COUPLE UPSTAIRS

Pan Macmillan

THE PATIENT'S SECRET

Montlake Romance
BEST SHORT STORY
RUSSIAN FOR BEGINNERS

Ellery Queen Mystery Magazine

THE GIFT

Down & Out Books

PUBLISH OR PERISH

Ellery Queen Mystery Magazine

33 CLUES INTO THE DISAPPEARANCE OF MY SISTER

Ellery Queen Mystery Magazine

SCHRÖDINGER, CAT

Ellery Queen Mystery Magazine

STOCKHOLM

Amazon Original Stories
BEST YOUNG ADULT NOVEL
OUR CROOKED HEARTS

Flatiron Books

SUGARING OFF

Algonquin Young Readers

DAUGHTER

Wednesday Books

WHAT'S COMING TO ME

Soho Teen

I'M THE GIRL

Wednesday Books
BEST E-BOOK ORIGINAL NOVEL
EVASIVE SPECIES

Self-published

THE COUPLE AT CAUSEWAY COTTAGE

HarperCollins

THE SEVEN TRUTHS OF HANNAH BAXTER

Self-published

THE HOLLOW PLACE

Self-published

FATAL ROUNDS

Self-published
ITW Community
patrons
sponsors
supporters
Actives

Sandra Brannan

Clive Cussler*

Dirk Cussler*

Shane Gericke*

Faye and Jonathan Kellerman*

John Lescroart

Joanie McDonell

Karin Slaughter

Larry D. Thompson

Actives

Kathleen Antrim*

David Baldacci*

Neal Baer

Steve Berry*

J. Jackson Bentley

Gary Braver*

Sandra Brown*

Dale Brown*

John Case*

Lee Child*

James Comey

Michael Connelly

Glenn Cooper

Richard Curtis*

Jack F. Du Brul*

David Dun*

Joseph Finder

Brian Garfield*

Tess Gerritsen*

Leslie Glass*

Jeff Gunhus

Vicki Hinze*

Lisa Jackson

Alex Kava*

Raymond Khoury

Deborah LeBlanc

Eric Van Lustbader*

D. P. Lyle M.D.*

Gayle Lynds*

Steve Martini

Brad Meltzer

David Morrell*

Katherine Neville*

Michael Palmer (2004-2013)*

James Patterson*

Andrew Peterson

Douglas Preston*

Lissa Price

Keith Raffel

Christopher Reich*

James Rollins*

M.J. Rose*

JoAnn Ross

Hank Phillippi Ryan

John Saul*

Andy Siegel

Susan Arnout Smith

R.L. Stine*

Brad Thor*

Lisa Unger

Paul Vidich

Associates

Maria Carvainis

Leisure Books*

JK Franko*

Ed Mitchell*

Henry Morrison*

Adrian Muller*

Bill Sewell

Tor/Forge Books*

Your Book Is Your Hook!

Actives

Steve Alten*

Ashok Banker

Ted Bell*

Emily Benedek

Janet Berliner-Gluckman*

Gary Birken

Mike Bond

Sandra Brannan

Allison Brennan

Mike Brogan

Jan Burke*

Lorenzo Carcaterra

Lincoln Child*

Stephen Coonts*

Brian D'Amato

B. J. Daniels

Nelson DeMille

Eileen Dreyer*

Joanna Elm

Linda Fairstein*

Vince Flynn (2004-2013)*

Chris Fox

Joel Goldman*

Howard Gordon

Heather Graham*

Thomas Greanias

Gary Grossman

Humphrey Hawksley

Bonnie Hearn Hill*

Mark Imhof

Alan Jacobson

Judith Kelman*

Harley Jane Kozak

Jon Land

Dennis Lynds (2004-2005)*

Patricia McLinn

Michael McMenamin

Francine Mathews*

Nan McCann

Kyle Mills*

Twist Phelan

Christopher Rice*

Wendy Roberts

John Sandford

James Siegel*

Carl T. Smith*

Deborah Smith*

Taylor Smith*

L.A. Starks

Mariah Stewart*

Peter Straub*

Lee Strobel

M. Diane Vogt*

Thomas Waite

Stuart Woods*

Associates

Linda Adams*

Brilliance Audio*

Mike Brogan

Brian Godden

Steve Hadden*

Emory Hackman

Inkwell Management, LLC*

Jennifer Kreischer

Mario Mastro*

Vicki Montet

Amy Rivers

Mike Trigg