ITW's Online Thriller School
---
Learn from the Masters:
Ten Weeks of Intensive Craft Lessons
Includes a Bonus "Ask Me Anything" Panel!
Join Liv Constantine, Jeffery Deaver, Lisa Gardner, Alexia Gordon, Adam Hamdy, Cate Holahan, Anthony Horowitz, Steven James, Tosca Lee, Jaime Levine, David Morrell, Samuel Octavius, Alex Segura, and Jerri Williams.
The Eighth Annual Online Thriller School has now concluded. To be put on a waiting list and be among the first to know when the schedule and list of instructors for ITW's Ninth Annual Online Thriller School (2022) please email Christopher Graham at ITWOnline@thrillerwriters.org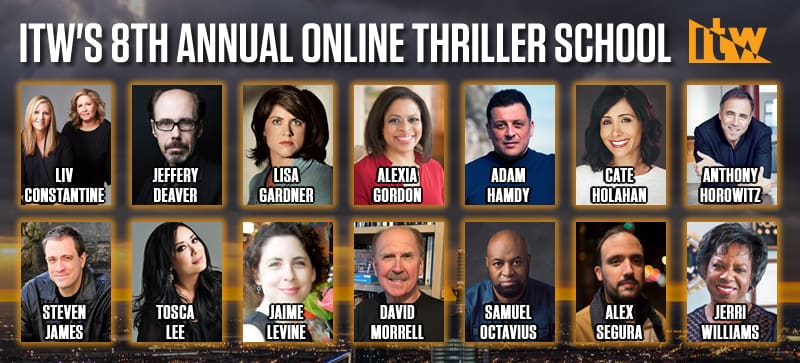 In this TEN-week program, which begins September 14, 2021, the craft of thriller writing will be front and center. Each instructor will teach an aspect of craft during a two-hour Live Zoom session, will provide written materials for further reading along with study suggestions, and will offer an entire week of online Q&A with the registered students. The goal is simple: To make each student a better writer.
Attendance is limited, and we sold out last year, so please register today or CLICK HERE for more information.
Registration for the ten-week online course is $495.
The talented instructors will delve into the following topics: Pacing, World Building, Building Suspense, Villains – Beyond the Cardboard Cutout, How to Edit Like a Pro, Creating Depth of Character, The G-Woman: An Insider's Look at the FBI, How to Write a Killer Twist, Creating Realistic Dialogue, and Developing and Honing Your Voice
Bonus Panel: "Ask me Anything" with Alexia Gordon, David Morrell & Alex Segura – Moderated by Samuel Octavius
---
Advice From Your Online Thriller School Instructors:
"To be satisfying, a twist needs to be more than merely shocking – it must be both surprising and believable with the reader saying at the end of the book: Ah, I should have seen that coming but I didn't." –Liv Constantine
"My advice to beginning authors: Write the type of fiction you love to read, plan each book or story ahead of time, don't rush it to completion, rewrite and rewrite and rewrite, and remember: rejection is a speed bump, not a brick wall!" —Jeffery Deaver
"Writing is a journey, not a destination. Never forget to enjoy the ride." —Lisa Gardner
"Writer's Block is a malady borne of missing research. Learn more about your setting, character, or central conflict and it goes away." –Cate Holahan
"Readers don't want to read about nice characters doing nice things, they want to read about conflicted characters doing difficult things." —Steven James
"No story will turn out exactly how you thought it would. It's like raising kids." —Tosca Lee
"Be a first-rate version of yourself and not a second-rate version of another author." —David Morrell
"What most people know about the FBI comes from books, TV, and movies. When authors of thrillers and police procedurals take the time to learn who the FBI is and what the FBI does, they make their stories as true to life as possible while capturing and engaging readers." —Jerri Williams
---
CLICK HERE to learn more, including the full schedule, instructor bios and FAQs.
ITW Community
patrons
sponsors
supporters
Actives

Sandra Brannan

Clive Cussler*

Dirk Cussler*

Shane Gericke*

Faye and Jonathan Kellerman*

John Lescroart

Joanie McDonell

Karin Slaughter

Larry D. Thompson

Actives

Kathleen Antrim*

David Baldacci*

Neal Baer

Steve Berry*

J. Jackson Bentley

Gary Braver*

Sandra Brown*

Dale Brown*

John Case*

Lee Child*

Michael Connelly

Glenn Cooper

Richard Curtis*

Jack F. Du Brul*

David Dun*

Joseph Finder

Brian Garfield*

Tess Gerritsen*

Leslie Glass*

Jeff Gunhus

Vicki Hinze*

Lisa Jackson

Alex Kava*

Raymond Khoury

Deborah LeBlanc

Eric Van Lustbader*

D. P. Lyle M.D.*

Gayle Lynds*

Steve Martini

Brad Meltzer

David Morrell*

Katherine Neville*

Michael Palmer (2004-2013)*

James Patterson*

Andrew Peterson

Douglas Preston*

Lissa Price

Keith Raffel

Christopher Reich*

James Rollins*

M.J. Rose*

JoAnn Ross

Hank Phillippi Ryan

John Saul*

Andy Siegel

Susan Arnout Smith

R.L. Stine*

Brad Thor*

Lisa Unger

Paul Vidich

Associates

Maria Carvainis

Leisure Books*

JK Franko*

Ed Mitchell*

Henry Morrison*

Adrian Muller*

Bill Sewell

Tor/Forge Books*

Actives

Steve Alten*

Ashok Banker

Ted Bell*

Emily Benedek

Janet Berliner-Gluckman*

Gary Birken

Mike Bond

Sandra Brannan

Allison Brennan

Mike Brogan

Jan Burke*

Lorenzo Carcaterra

Lincoln Child*

Stephen Coonts*

Brian D'Amato

B. J. Daniels

Nelson DeMille

Eileen Dreyer*

Joanna Elm

Linda Fairstein*

Vince Flynn (2004-2013)*

Chris Fox

Joel Goldman*

Howard Gordon

Heather Graham*

Thomas Greanias

Gary Grossman

Humphrey Hawksley

Bonnie Hearn Hill*

Alan Jacobson

Judith Kelman*

Harley Jane Kozak

Jon Land

Dennis Lynds (2004-2005)*

Patricia McLinn

Michael McMenamin

Francine Mathews*

Kyle Mills*

Twist Phelan

Christopher Rice*

Wendy Roberts

John Sandford

James Siegel*

Carl T. Smith*

Deborah Smith*

Taylor Smith*

L.A. Starks

Mariah Stewart*

Peter Straub*

Lee Strobel

M. Diane Vogt*

Thomas Waite

Stuart Woods*

Associates

Linda Adams*

Brilliance Audio*

Mike Brogan

Steve Hadden*

Emory Hackman

Inkwell Management, LLC*

Jennifer Kreischer

Mario Mastro*

Amy Rivers